New to the Cubes? Click here to start your journey!
---
Current Comic

Hot Dog, Canine Defender of the Innocent, Issue 5 - Behemoth
Comic Last Updated May 24, 2017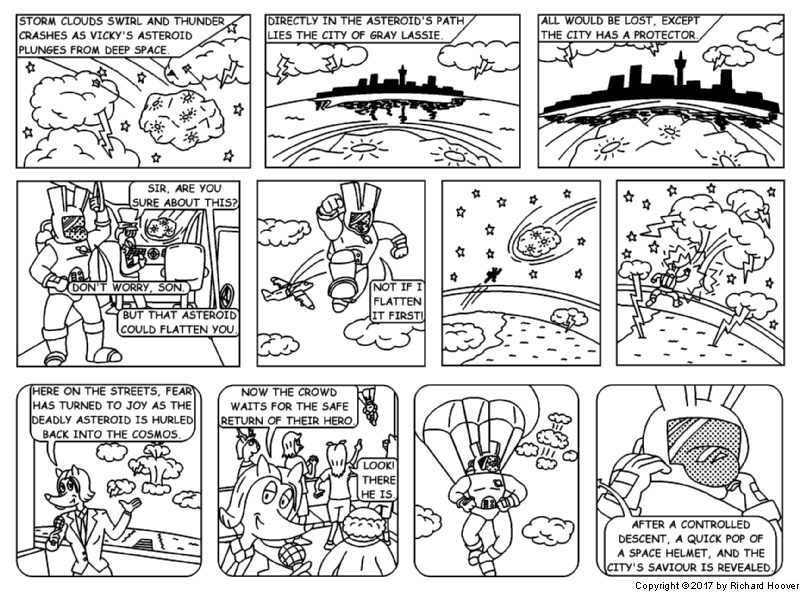 Read the full comic!
---
Welcome! Welcome!
Welcome to the official home of the Cubes. The Cubes are a group of anthropomorphic comic strip characters placed in an assortment of funny predicaments. Whether you're interested in office hijinks or bumbling super heroes, Cubes is for you. Come in, look around, and enjoy.
-Richard Hoover, creator of the Cubes
---
Newest Additions

---
| | |
| --- | --- |
| | Timeline - Cubes has a wonderful and varied history. Read every Cubes comic in order in one convenient place! |
| | Comics - All of the Cubes comics ever produced can be found here. Go and see the origin of Hot dog, the office escapades of the Cubes, and more! |
| | Characters - Biographies of every major Cubes character. Want to know the secret identity of the evil Mister Mustard? Searching for background on the staff of SeaLeft Software? The answers are here! |
| | Games - The Cubes go interactive! Try your hand at games based on Cubes to see how you would do in the world of Cubes. |
| | Postcards - Browse a selection of Cubes postcards. Print them and send them to friends. |
| | Articles - Looking for behind-the-scenes information on Cubes? Of course you are! Peruse various articles about the inspiration and creation of the Cubes world. |
| | Downloads - You've read the comics, played the games, now get the downloads! Various Cubes items are available for instant download, free of charge. |
---
Copyright © 2003-2017 by Richard Hoover. All rights reserved. No reproduction without permission.